B E H O L D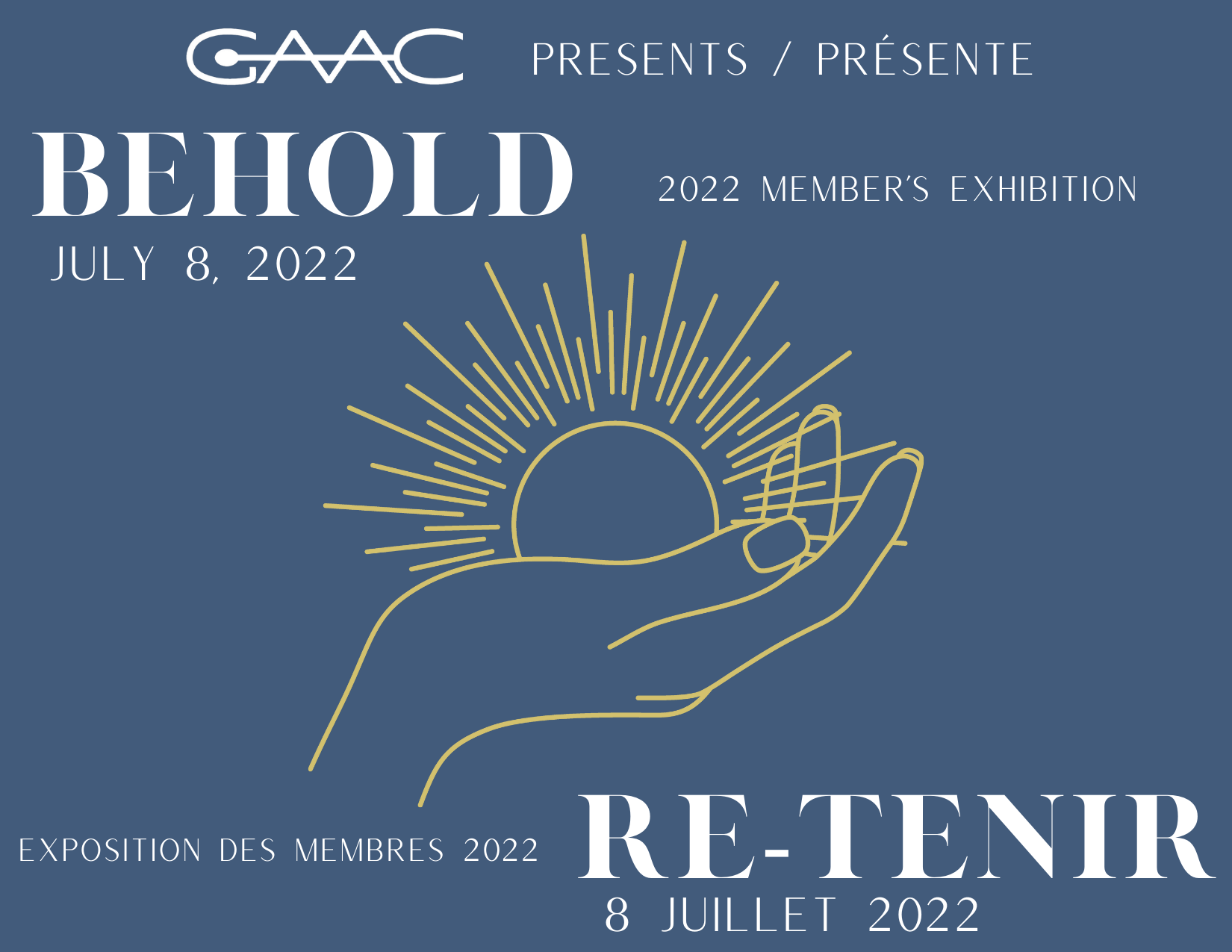 '
Members' Exhibition 2022
The Glass Art Association of Canada invites you to explore the potential behind the word B E H O L D for our Summer 2022 Members' Exhibition. How does this theme resonate with you? Is it the literal act of holding, or being held? Are you holding your breath in light of the events taking place today? Do you feel like your life's been placed on hold? These are only a few examples in which we challenge you to exemplify this premise in the glass medium.
The Glass Art Association of Canada's 2022 Members' Exhibition showcases Canadian glass art of all forms. The work can be functional or sculptural, festive or contemplative, or all the above. The glass vessel may be applied to the theme of HOLD since its objective is to hold, to contain; what can you do to expand the limits of your work?
The exhibition intends to highlight the many reasons we make glass art: self-expression, profit, charity, education, cause, or religious and cultural practices. GAAC invites you to share with the community why you do what you do.
This members' exhibition focuses on emerging, mid-career and established artists from across Canada who employ glass as their primary medium. All glass techniques are accepted including but not limited to fusing, pate de verre, flameworking soft & boro, kilncasting, hotcasting, glass blowing, hotworking, lamination, carving, engraving, multimedia, stained glass, and works involving new technologies. Sorry, we are not accepting videos at this time.
Exhibited works will be regularly highlighted on social media for the duration of the exhibition.
TIMELINE
Submissions open early June 2022, submission deadline June 24, 2022.
The exhibition will launch on GAAC's website on July 8th, 2022.
ELIGIBILITY
Current membership to the Glass Art Association of Canada.
Current work made in with the past three years.
SUBMISSION REQUIREMENTS
GAAC members may submit up to three (3) works made within the last 3 years for consideration, only one (1) will be exhibited. We will be exclusively accepting submissions via GAAC's website.
Please complete your submission in one entry, you will not be permitted to go back in for edits. The Glass Art Association of Canada reserves the right to withhold any submission from exhibition that was misrepresented or fails to meet professional standards.
In lieu of an application fee, we welcome donations in any amount along with your submission. This allows GAAC to continue work in support of our community.
Submissions are due by 11:59pm on June 24th, 2022.
Please have the following ready for your submission:
Unsure your GAAC membership is active, and your artist profile is up to date, including your artist bio and contact information.
An image list including

Title
Date work created
Medium & Materials
Dimensions (in inches)
A statement for each work (max. 150 words)

Upload up to three images with your submission: One (1) image for each of your artwork. Only one will be exhibited. Image must be of professional quality. Please submit as .jpeg with a minimum 800 pixels in the widest dimension, at 72 dpi.
For further information, please contact GAAC at gaacanada@gmail.com.
Please note, GAAC will not be responsible for sales during this online members' exhibition. Please ensure your contact information, on your personal GAAC profile, is up to date for potential buyers or inquiries.