Featured Artist
Maciej Dyszkiewicz
(1959 - Dec 1, 2019)
Maciej Dyszkiewicz is primarily a traditional stone wheel engraver who was taught the craft by his father in Warsaw, Poland. In the 1980's, he created customized designs for leaded crystal glass in Greece. In 1988, he opened a self-operated craft shop in Toronto and has garnered acclaim for his intricately carved vessels ever since. Maciej's work can now be found in galleries throughout North America, and has received international acclaim. His line of work has also extended to unique blown glass paperweights and perfume bottles which drip with colour as if frozen in time.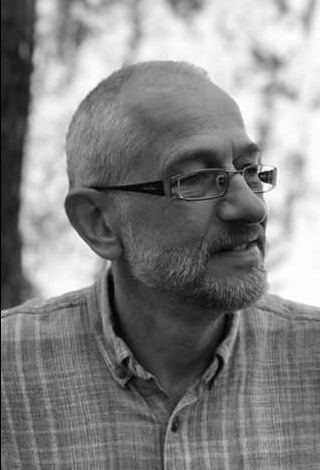 As we intrude more and more into our surrounding with different technologies, creating new species, polluting the environment, struggling with noise, stress and the speed of life , we often express our doubts and recall with nostalgia the times of clean air and water. We long for quite tranquillity, where being surrounded by old silent buildings, or walking through forests, where nature sounds are the only music.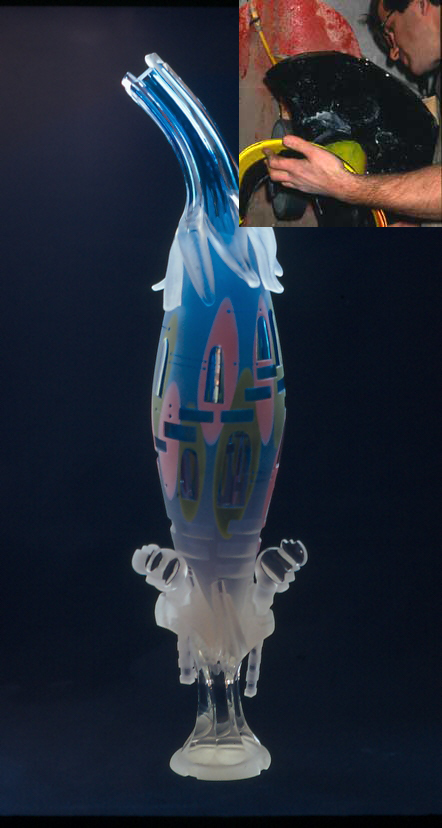 Creative Process
Stone wheel engraving, the technique which reflects precision ,the best of all the glass engraving techniques. In a traditional sense this technique and its designs speak of geometry, where the quality of cuts is the virtue. Only flawless cuts will bring the maximum brilliance to the cut and polished surfaces.
Blowing my own glass I made the color as important as the engraving. With these tools the possibilities seem endless, having all these varieties makes it very easy to wander through designs without a path. It took me about seven years exploring engraving with different colour applications before I came up with something, what I call, a system.
Being trained as a traditional glass stone wheel engraver and learning to blow my own glass, I had to come to terms with colours, and how to apply them so I can fully use my engraving skills. I wanted to develop a system where with every piece I could go a step further with my engraving, because the colour, especially its controlled placement allows for it. After trying the most common, the overlay technique, I came to a conclusion that the most exciting multi coloured (colour bar) overlay variations are so different with every single blowing that there was no chance of engraving continuity from one piece to the following one. Shards seemed to be a solution . Also the most neutral shapes, circles and ovals, I thought were logical choices. The only thing now left was to find the colour combinations, and let the imagination do the rest.
Maciej's Work