Grants & Scholarships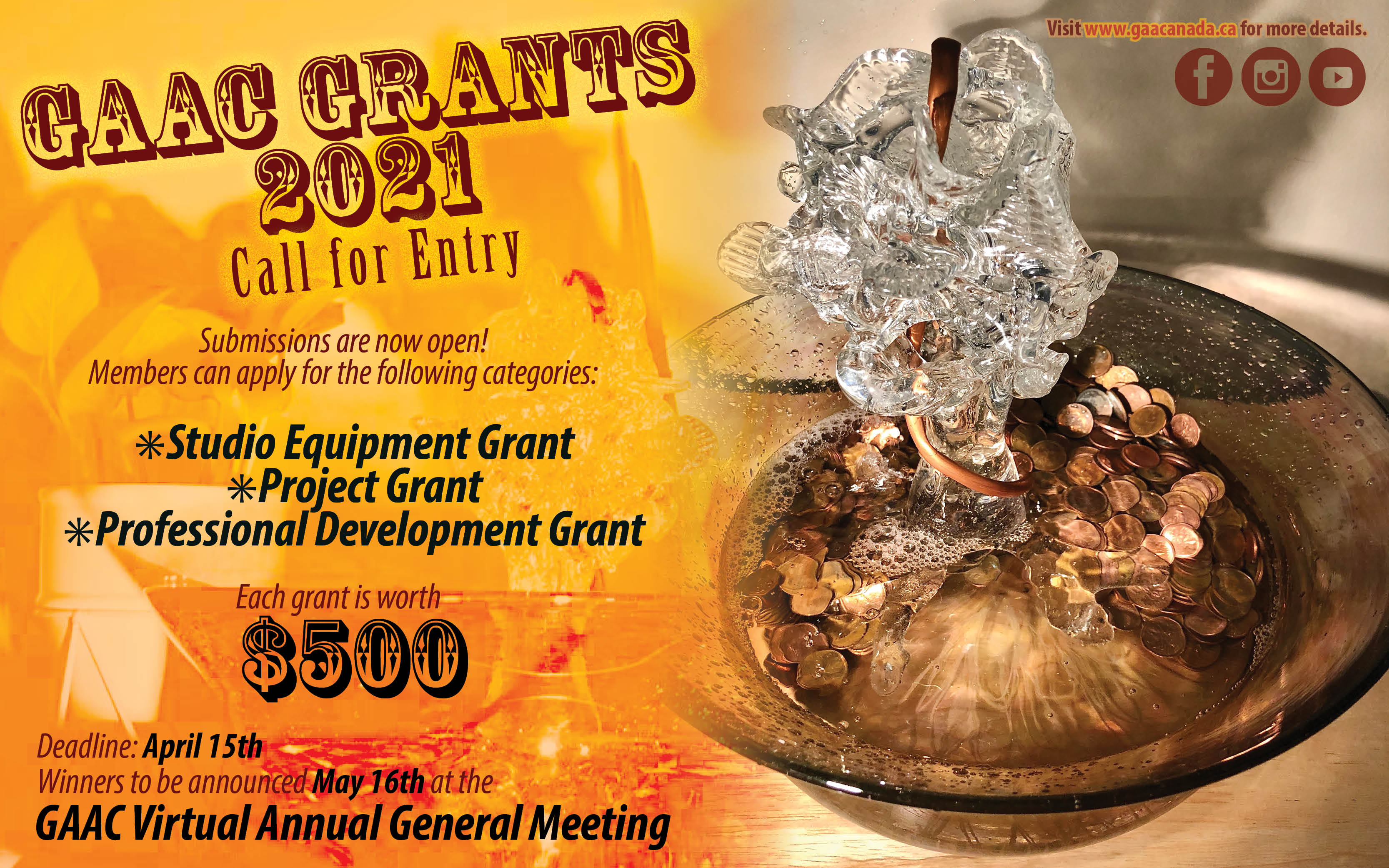 In April 2021, the Glass Art Association of Canada is opening a call for entry for three $500 members' grants in the following categories: Studio Grant, Project Grant and Professional Development Grant. Members may apply for more than one grant by submitting each application separately.
Deadline: April 15th
Recipients to be announced: May 16th at GAAC Annual General Meeting.
Who can apply? Must be a current member of the Glass Art Association of Canada. A current GAAC artist profile will strengthen your application.
The proposals will be reviewed by a selected jury of your fellow Canadian Glass artists.
Category 1 - Studio Grant
Deadline: Apr 15, 2021
We know times are tough. The Glass Art Association of Canada offers one $500 grant to a GAAC member whose studio practice has been affected directly or indirectly by the pandemic. What tools or equipment will help you be successful in your practice? Good tools are like good friends always there for you when you need them. With this grant, we hope to fund what you need to make your studio run smoothly. Whether you need to upgrade a section of your studio, get a studio, equipment rental, or purchase a vital piece of equipment to keep creating, this category is designed to support you.
Category 2 - Project Grant
Deadline: Apr 15, 2021
The Glass Art Association of Canada will be awarding a $500 grant to a member seeking funding for the fabrication of a specific body of work. This grant will be open to all mediums and glass-making processes that explore the relationship between form and function or concept and sculpture. Glass has the ability, quality, or eminence considerably above the normal or average for manipulation. Or is it in the tools used to shape the glass that makes the results great?
The Project Grant recipient will also have the opportunity to present or demo their project at the GAAC 2022 conference, either virtually or in-person.
Category 3 - Professional Development Grant
Deadline: Apr 15, 2021
GAAC is offering a third grant of $500 to GAAC members looking to expand their knowledge. Are there workshops, courses, or classes that would encourage your growth and help you reach artistic or career goals? Then apply for the $500 Professional Development Grant to support skills specific to career development. Aid for professional development activities can include but is not limited to:
Mentorship
Bookkeeping
Workshops
Specialized training