Resound | Radiate | Refine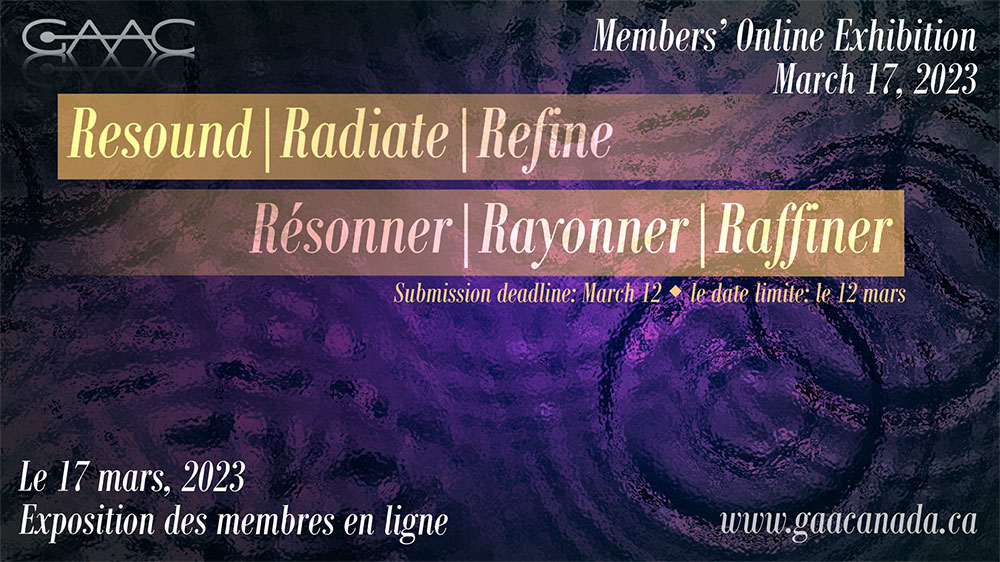 Members' Exhibition 2023
The Glass Art Association of Canada invites you to explore the potential of our upcoming theme Resound I Radiate I Refine for our spring 2023 Members' Exhibition. How do these words resonate with you? For many of us, glass serves as an extension of ourselves, of what we already have within us, or our response to the world around us. We take this wondrous material and transfigure it in more creative and innovative ways each day. The physical properties allow us to explore our senses and emotions in unique ways; glass echoes, reflects, and transforms. We challenge you to exemplify this theme in your practice. What can you do to expand the limits of your glasswork?
The exhibition intends to highlight the many reasons we make glass art: self-expression, profit, charity, education, cause, or religious and cultural practices. GAAC invites you to share with the community why you do what you do.
This members' exhibition focuses on emerging, mid-career and established artists from across Canada who employ glass as their primary medium. All glass techniques are accepted including but not limited to fusing, pate de verre, flameworking soft & boro, kilncasting, hotcasting, glass blowing, hotworking, lamination, carving, engraving, multimedia, stained glass, and works involving new technologies.
Exhibited works will be regularly highlighted on social media for the duration of the exhibition.
Diana Fox - GAAC President
Ariel Hill - Conference Chair
GAAC Board of Directors
Marcia DeVicque
Gabriela Wilson
Andrew Beauchamp
Amee Raval
Gosia Martyniak
Ankeeta Kitras
Ramona Stinson
Courtney Downman

Please note, GAAC will not be responsible for sales during this online members' exhibition. Please ensure your contact information, on your personal GAAC profile, is up to date for potential buyers or inquiries.