Exhibit Eh!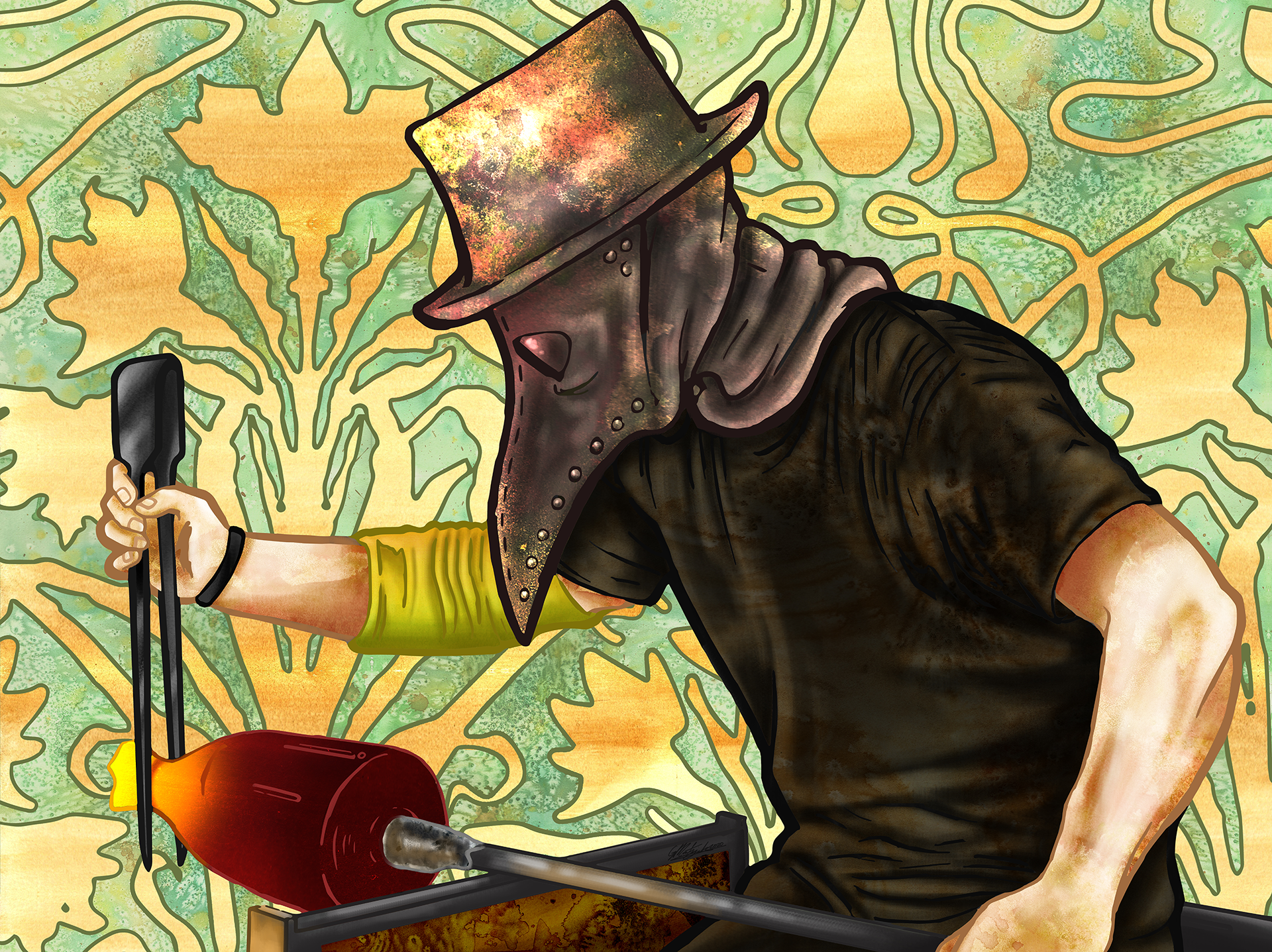 GAAC 2020 Members' Online Exhibition
Come gather together virtually, to celebrate our love for glass as a material and this community we share. In the spirit of our postponed conference, GAAC would like to invite our members to share their work and experiences in this time of heightened isolation.
At the best of times many of our members struggle to feel connected while working in relative isolation. In these unprecedented times of pandemic, this alone time has become a graphic reality for many. Some can turn to working with glass; for others, this is out of reach, along with other physical distancing measures. I'm sure the ideas are still flowing even if the glass is not, and I hope you are drawing pictures!
My heart goes out to you, our community at this time. Your health and safety are of paramount importance, and I hope you all are in a place where you have the help and support you need. While we drastically restructure the focus of our daily routines, let's have a little fun showing the world what we love to think about.
This members' exhibition focuses on emerging, mid-career and established artists from across Canada who employ glass as their primary medium. Functional and conceptual work in all glass techniques are accepted, including but not limited to fusing, pate de verre, flameworking, kilncasting, hotcasting, glass blowing, hotworking, lamination, carving, engraving, multimedia, and works with new technologies involving glass. Sorry we are not accepting videos at this time.
GAAC acknowledges the fact that due to the COVID-19 pandemic, not all members, especially students, may have their most current works finished. We are expanding this call to include concept renderings of works (soon) in progress, images of works in progress, and prints that have been made with glass i.e. vitreograph prints.
As we while away the days until we can safely come together and celebrate (Whitehorse Yukon 2021 or bust!!!) I would like to personally invite our members to get involved.
See you there!
Benjamin Kikkert
President of the Glass Art Association of Canada
GAAC Board of Directors
Alex Hupé
Marcia DeVicque
Diana Fox
Gabriela Wilson
Andrew Beauchamp
Amee Raval

---
Eligibility:
Current member of the Glass Art Association of Canada.
Canadian artists working with glass can submit up to three (3) works for consideration, only one will be selected
Work must have been completed in the past 3 years
Submission Requirements:
We will only be accepting submissions via GAAC's website. Please prepare the following items and have them ready for the online submission form, which will be live on our website in early May 2020. Please complete your submission in one entry, you will not be permitted to go back in for edits. The Glass Art Association of Canada reserves the right to withhold any submission from exhibition that was misrepresented or fails to meet professional standards.
Submissions are due before 11:59pm on Sunday, May 24 2020.
Please have ready the following information, for your submission:
A short artist bio to update your profile page
An image list including the following for each image in your application:

Title
Date work created
Materials
Dimensions (in inches)
A statement about each work (150-250 max words)